The batsman in form and Indian Cricket Team's one of key player Rohit Sharma has been in terrific form over the last couple of years. Rohit Sharma led the side in the absence of Virat Kohli against Sri Lanka in ODI and T20 has came up with strong comments on his batting. Rohit Sharma scored double century against Sri Lanka and his third double century in ODI cricket.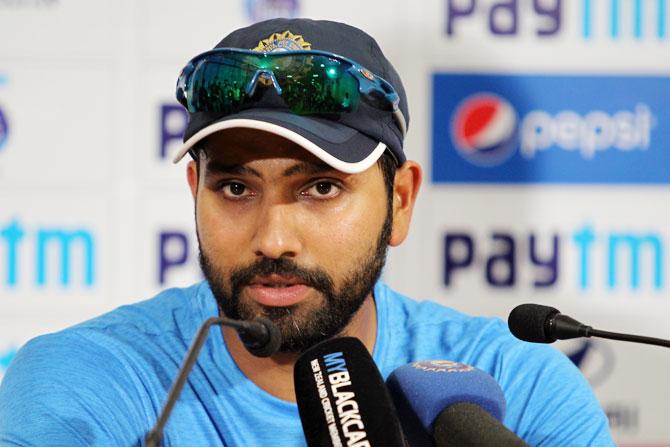 Speaking to The Times of India, he revealed his secret to success. He stated how learnt to play in time and understood the nuances of batting. "Firstly, time has been a great teacher. It's over the years that I have tried to understand the finer nuances of batting. There's a pattern to my batting, and it's a trend that I think I managed to figure out to a large extent. For instance, the first thing I did was do away with any sort of negative thinking, or allowing any kind of pressure to build on me." said Rohit.
He further added, "It never helps. Like I said, I follow a certain template at the crease. That's a multi-layered one. You got to have an instinctive approach, depending on the opposition, the conditions etc," said Sharma.
Rohit Sharma also revelead that basic is also part of his success. He also disclosed about how he breaks down his innings in different parts. "Then, there are some basics too. I like to break my innings into three parts inside my mind. I take my time in the first 10 overs, acquire a sense of the occasion" said Rohit.
He also added "From over number 11, I begin to realise if I'm ready to free my arms a bit and between then and over number 30, I like to build something. Multiple factors play a role in these stages and if I've moved smoothly up to over number 35, then that's where I'd call myself dangerous for the opposition. This doesn't happen every time. But at least inside my mind, this is how I approach an ODI innings," he concluded.
Rohit Sharma who has been great in last 2 years always had some problems whenever he visited South Africa. This time it would be a huge challenge personally to prove himself in the South Africa's condition and fast pitches.
Comments
comments