Recently MS Dhoni got criticism from all over the world but there are still some current players and former cricketers who got a lot of faith and trust left in India's Former Skipper MS Dhoni. MS Dhoni had a great year with the bat and the wicket-keeping gloves. MS Dhoni played 29 games and scored 788 runs with an average of 60.62 inODI cricket in which he scored 6 half centuries and 1 century. MS Dhoni's strike rate was 84.73 which is very impressive. From Skipper Virat Kohli to head coach of Indian Cricket Team Ravi Shastri all came in support for the former skipper.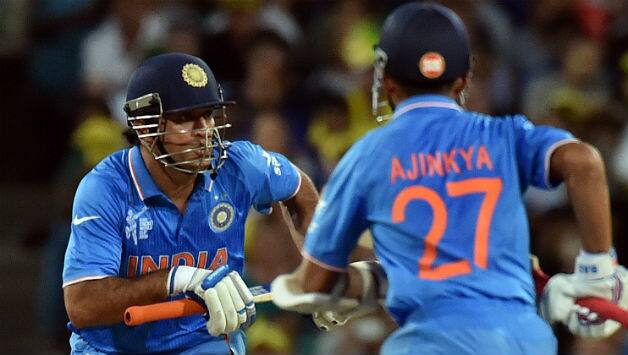 However, Ajinkya Rahane joined the bandwagon and shared his opinion on how important MS Dhoni is for him and also for the Indian Cricket Team . Ajinkya Rahane not only stated how fit MS Dhoni is even at the age of 36 but also trying to keep up with all the challenges coming up in International Cricket. He also said how much MS Dhoni has left to offer the team.
"Definitely MS Dhoni has cricket left in him. He is taking care of his fitness, he is looking after his body, he is looking after his diet I mean and also his advices on the field to Virat is such a big difference," Rahane told India Today.
"And he has a skill and he is so experienced that he has actually seen everything. I feel he is the guy and we are lucky to have him in our team. His advice means a lot to us, it taught us a lot and he definitely has cricket left in him," added Rahane who also played with Dhoni in the Indian Premier League.
Apart from Virat Kohli and Ravi Shastri who came in defense for MS Dhoni after being criticized for his slow innings against New Zealand in T20. Former players like VVS Laxman and Ajit Agarkar came up with statements which said MS Dhoni should make a way for youngsters into the team.
Recently, Rohit Sharma who was the skipper of Indian Cricket Team in the absence of Virat Kohli also made it very clear that MS Dhoni still got a lot of cricket left in him and the team believes in the former skipper. He was also surprised about how former cricketers can say something like that for MS Dhoni.
"I am shocked that this question is being raised. If you look at the recent performances, I don't understand why people are still talking about it," Rohit had said.
Apart from having a great time in ODI this year, MS Dhoni has also performed impressively in T20Is, amassing 252 runs in 13 games at an average of 42 with the highest score of 56.
Comments
comments